Heroes Forever was established by individuals who have been impacted by pediatric cancer.
Our current board of directors has committed themselves to the organization because each one has been touched by one or more pediatric cancer patients.  We prefer to refer to these patients as Heroes;  every one undergoing cancer treatment is a "Hero Forever".
Please read further to learn more about the passion that drives and governs Heroes Forever.
Vicky Sternicki, Founder and President
When I was growing up, kids were my passion.  I was always playing house and school.  I loved to babysit.  I wanted to get married and have several children.  In high school, I dreamed of becoming a teacher and a coach.
For fun, my mom and her friends used to dangle a pencil hanging from a needle and thread over my wrist to tell me how many children I would have (do the still do that?).  To the amusement of my mom, the pencil turned out to be somewhat accurate;  it consistently reported 2 boys and 2 girls.  Jeremy (Germ), born in 1980, introduced me to motherhood;  Jacob (My Sweet Baboo), born in 1985 demanded I learn patience;  Jerron Matthew (My Sweet Baboo #2) taught me a brand new meaning of the word "HERO" and what it means to really give from the heart.  In 2003 I added a step-daughter, Sarah, to my brood;  she was born in 1980 and ironically lost her real mom, who was also a friend of mine, to breast cancer the same year I had to say goodbye to my "Sweet Baboo #2".  That was 1996.
The worst journey of my life began in January of 1992, when Jerron was diagnosed with ALL.  For those of you unfamiliar to the childhood cancer world, that is Acute Lymphoblastic Leukemia – talk about a crash course in spelling and biology!  There is nothing that compares to living life watching your child fighting for his life, saying good-bye to that life and then to have to go on living with a great big gaping hole in your heart that oozes PAIN from every inch of your being!
The painful journey taught me that life truly is precious and the world does not stop while you grieve. I learned how to cry rivers while driving to the grocery store, or church, or work and when I arrived at my destination, I could take a tissue, blot the tears from my eyes, refresh my mascara, pat my cheeks dry, put on a little lipstick and go on with my day pretending for the general public that everything was perfectly normal!  THERE IS NOTHING NORMAL ABOUT BURYING YOUR CHILD!  When you bring a child into the world, you expect for them to see you out.  There is nothing more painful than losing a child;  the closest thing to that pain is knowing that you might.  Lose a child, I mean.  In the midst of all the pain you still have to find love and laughter, wrap yourself with that love and laughter, share it and most of all cherish it!
I could be drowning in a vodka bottle.  Instead I choose to take life by the horns and focus on helping our little Heroes live life to the fullest.  Jerron taught me a lot about living life to the fullest.  He was always up for having fun and looking forward to when he felt better so he could play and do all of the things he loved.  What I discovered throughout the 4-year battle, or roller coaster, if you will, of dealing with this life-threatening illness, was that playing and doing all of the things he loved made him feel better.  Participating in fun activities took all of our minds off of the reality we lived every single day.  It created some bittersweet memories.  Laughter is truly one of the best prescriptions!  I can still hear Jerron's laugh!
After Jerron left his earthly home, Jeremy, Jacob and I were invited to volunteer for an organization that we had participated with during Jerron's illness.  They catered to kids with cancer, but more importantly, they catered to kids with cancer and their families!  Childhood cancer, like many illnesses, does not just affect the patient!  I wasn't sure if I could handle being around kids with cancer when the wounds of losing my little Hero were still so fresh.  Wow!  I was amazed that I found it very healing and learned that the Lord really doesn't give us more than we can handle.  What doesn't kill us does make us stronger.  I soon realized that my calling was not anything that I dreamed of when that pencil was dangling over my wrist, or when I was in high school.  18 years ago, I began a journey that was a stepping stone to launching Heroes Forever!  It is such a tribute to that cute little 8-year-old boy with such a big heart and big voice!  It is by the far the best thing I have ever spear-headed.
As I leave my church, above the door it reads "You are now entering the mission field".  What better way to serve than by supporting and creating some very special memories for these precious Heroes and their families.  I believe that it is what God has placed me and Jerron's memory on this earth to do!
Keith Herner, Vice-President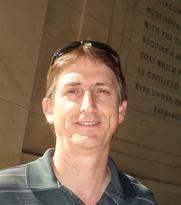 I'm a Mechanical Engineer with Zachry Engineering Corporation in Denver.  On April 12, 2002, my 5 year old son, Todd, was sent to Children's Hospital by our pediatrician.  He had a fever that wouldn't go away after 8 days.  In the emergency room that night, the doctors weren't sure what was causing Todd's fever.  A few hours later, the doctor told my wife and me that Todd was going to be admitted to the Oncology unit and Todd was going to have a sample of his bone marrow taken.  The next day, Todd was diagnosed with Acute Lymphocytic Leukemia (ALL).  Todd was immediately started on chemotherapy and his treatments continued for the next 3 years and 2 months.  Today, Todd is a healthy 21 year old and has been off of chemo since June 2005.
During the time Todd was on treatment, it was a very stressful time.  Throughout the first year of treatment, he went to the hospital every week for his chemo treatments.  This put a strain on the entire family.  You spend so much time with your sick child, it's difficult to make sure the rest of the family doesn't get forgotten.  Todd has a sister that is two years younger than him.  Although she was only 3 when Todd was diagnosed, as the years of treatment for Todd went on, she started to understand that Todd was sick and she had to stay with grandparents while Todd was at the hospital.
What helped our family through the long treatment process was doing things with different groups that helped kids with cancer and their families.  Long weekend trips to Breckenridge and YMCA of the Rockies, parties for Halloween and Valentine's Day were a huge help to our family.  These activities took our minds off of what our family was going through.  To see your sick kid and his sister playing with other kids and being able to talk to other parents who could relate to what your family was going through was extremely helpful.
Vicky Sternicki was involved with organizing some of these events and we have become friends over the years.  When I found out that she wanted to start an organization in honor of her son Jerron, who passed away from ALL in 1996, I wanted to be a part of a new venture.  To bring happiness to pediatric cancer patients and their families, by taking their minds off of illnesses for awhile, is why I wanted to be a part of Heroes Forever.  In the eyes of the parents, the kids going through treatment for cancer are our heroes for all they have to endure to hopefully survive.  My goal for being on the Heroes Forever Board of Directors, is to create activities and fun events for pediatric cancer patients and their families.
Mandy Herner, Secretary
You can read about my family's story above written by my husband, Keith.  I am a business owner with PartyLite and as such, can set my own hours to be with my kids when they need me.  I am home to get them off to
school and to greet them at the end of the day.  When Todd was sick, this was a lifesaver because he was at the hospital a lot for treatment and you never knew when a fever might hit and off you would go back to the hospital.  I could not have held a traditional 9-5 job during this time.
Now that Todd has been off treatment for over 12 years, life is more normal and it is time for us to give back.  I have a real passion to volunteer and help others, so why not help those that have been down a similar road as we have.  That is why I am on the Board of Directors with Heroes Forever.  To see the smile on a pediatric cancer patient's face or their sibling's face is priceless!
Rick Colvin, Member At Large
I am a husband and father of 2 adult children.  I work as a Sales Engineer for CenturyLink – history of 30+ years in the bell system.  I lost a nephew to Leukemia at the tender age of 8.
At the time my nephew was battling leukemia, watching a child and family struggle through cancer was very challenging.
I started volunteering several years ago through a similar organization that assists families with a child struggling with any cancer.  Watching, learning and trying to understand how these children and families struggle through the daily challenges that cancer inflicts is a very humbling experience.  You help where you can, but do not fully understand the impacts this diagnosis brings into a family.
It is inspirational to provide family activities that allow families to step away from the daily challenges cancer demands and relish in quality family time.
I am proud to say, my wife and both children also volunteer their time and effort with Heroes Forever in support of families in need who have a child battling cancer.
Alana Lawson, Member At Large
I am the mother of 5, the grandmother of 4, adopted grandmother of 6, and work with and around young people with disabilities.  On June 6th of 1996, my 4th born son, Stephen, was diagnosed with ALL (Acute Lymphoblastic Leukemia).  That was the continuance of our emotional roller coaster in the life of our family.  You see, Stephen was born with Down Syndrome.  At birth, he had two holes in his heart and was premature.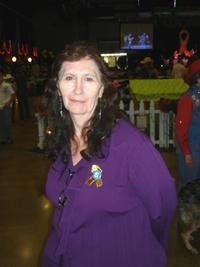 His first 10 days of life were spent in the hospital on oxygen and in the incubator.  He was a "fail to thrive" baby that only weighed in at 12 pounds on his first birthday.  But in every case, with his big smile and loving heart, he proved the doctors wrong and won the fight to live!  He had many surgeries for a variety of things his first 4 years.  Then, just as we thought he was finally healthy the "Big C" hit us hard.  For the next 4 years we were in and out of the hospital, at the Doctor's offices, running to Chemotherapy, or going to Physical Therapy, Occupational Therapy and/or Speech Therapy.  Everyone was affected by the cancer that my son had.  From myself, the primary caretaker, to my husband, who had to play the role of Mother
and
Father to each and every one of the other four children while I practically lived at the hospital for the first year of Chemo treatments for ALL with my sick son.  My youngest child was only 2 when Stephen was diagnosed.  The stress became enormous for the family because at that time, our insurance company would not cover blood related issues and we were going further and further into debt each day.  During the last year of Chemo my two oldest sons attended Columbine High School during the "shootings".
Through all of this my wonderful young son, Stevie, reached out and touched those around him with love and kindness, taking every chemo-treatment with a thank you and a hug. The nurses would come to his room to sit on their breaks because he was so personable and loving.  Everyone he met felt that same tug.  He has a very catching way of living. He does everything with a smile and makes it fun for everyone.  He truly is our Hero. During that first year of cancer treatment, we
were referred to a group of wonderful people that provided fun for kids that had cancer and their families.  This is where I met Vicky. She literally saved my little man's life. She offered friendship and fun to a family that was hurting.  My kids still talk about all the fun times they had with Vicky and the group that reached out to families with a child with cancer.  As I look back at those trying four years, I see the difference those times made in our lives and the lives of so many others.  So when Stephen was old enough to volunteer, we started to help Vicky out with Heroes Forever to help pay back some of the fun times we had and to create fun times for other families that are affected by cancer.  I am proud to volunteer and serve on the Board of Directors for Heroes Forever.
Wendy Weidenbacher, Member at Large
Wendy is a wife and mother to 2 teenage children.  Wendy is a native Coloradoan and crunches numbers for a living.  She enjoys watching her children play sports and finds volunteering with Heroes Forever inspirational.  Wendy has been a volunteer with Heroes Forever for many years helping in various capacities and in 2016 joined the Board of Directors.  She has inspired her husband and children to also volunteer their time supporting families in need who have a child battling cancer.
April Gooderum, Member At Large
I am a wife, mother, and middle school science teacher. My family enjoys discovering the beauty of Colorado as we ski, snowboard, hike, camp, bike, and boat.
Like so many others, I've had many people in my life diagnosed with cancer, including two great grandmothers, one great grandfather, uncles, family friends, and students.  I have seen first hand how stressful fighting cancer can be for cancer patients and their families! Heroes Forever tries to help with this stress by providing opportunities for the entire family to have fun and enjoy time together!
I have been volunteering with pediatric cancer patients since I was a sophomore in high school (which I have to admit was over 20 years ago).  I continue to be inspired by the patients and families I have had the opportunity to spend time with.  My parents have always supported my passion for helping support pediatric cancer patients and their families. They have an annual party to collect gifts for our Adopt a Hero For The Holidays event.  My two sisters, husband, and now daughter have also become volunteers with Heroes Forever. I am so proud to be part of such a wonderful and supportive organization! I am even more excited to have the opportunity to be on the board of directors for Heroes Forever!
Former Members
Thanks to our former members that have helped us along the way.
Bonnie Buquor
Andrea LeClaire
Audrey Loveland
Christina "Chrissy" Hernandez
Kerry Jones
Jeff Hilliard